Surface Analysis Instruments

ScienTec Ibérica offers surface analysis equipment to visualize and measure various properties. They relate to the surface condition, mechanical, chemical, electrical, optical, stress properties, thickness or even roughness under different environments; under vacuum, ambient or under controlled atmosphere ... The analyzes cover a large magnification ranging from the atomic scale to a few millimeters.
Filmetrics / KLA offers solutions in single / multiple measurements, online, adapted on microscope or in situ. From nm to mm of measurable thickness ...Du nm au mm d'épaisseur mesurable...
KLA offers a wide range of Nanoindenters for the vacuum or ambient system, including the in-situ model ...
Nanoindenters
Environnements
Universal Test Machine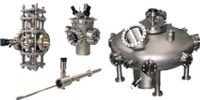 Prevac offers a wide range of vacuum and ultra vacuum equipment.