2D mechanical profilometer
1.

2D profilometry
2.

150mm plate
3.

Manual XY motorization and 360 ° rotation
4.

Low downforce
5.

Double optical detector
The Alpha-Step D-500 mechanical profilometer is capable of measuring 2D step heights ranging from a few nanometers to 1200 µm. It also supports 2D roughness, arc and stress measurements for R & D and production environments. The D-500 also supports 2D roughness, arc and stress measurements for research and development and production environments. The D-500 includes a 140mm manual stage and advanced optics with enhanced video controls.
Mechanical profilometry applications
Step height: 2D step height




Texture: roughness and 2D waviness




Shape: arc and 2D shape




Constraint: 2D thin film constraint




Industries




Universities, research laboratories and institutes




Semiconductor and compound semiconductor




LED: light emitting diodes




Solar




MEMS: micro-electro-mechanical systems




Data storage




automobile




Medical equipement



More info on applications
- Height of steps
- Texture: roughness and waviness
- Shape: bow and shape
- 2D thin layer stress
The Alpha-Step D-500 mechanical profilometer supports 2D measurements of step height, roughness, arc and stresses.
Innovative optical lever sensor technology offers high resolution measurements, a wide vertical range and reduced force measurement capability.
An advantage of the stylus measurement technique is that it is a direct measurement, independent of the properties of the material. The adjustable force and choice of stylus allow precise measurement of a wide variety of structures and materials. This allows you to quantify your process to determine the amount of material added or removed, as well as any change in structure by measuring roughness and stresses.
- 2D profilometry
- 150mm plate
- Manual XY motorization and 360 ° rotation
- Low support force
- Double détecteur optique
Step height: Nanometers at 1200µm




Low strength: 0.03 to 15 mg




Video: High resolution 5MP color camera




Correction of the trapezoidal distortion: removes the distortion due to the side view optics




Arc correction: removes errors due to stylus arc movement




Compact size: minimal system footprint for a table stylus profiler




Software: user-friendly interface


Stylus / Channel Simulator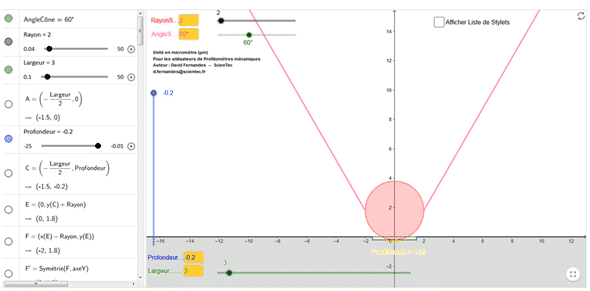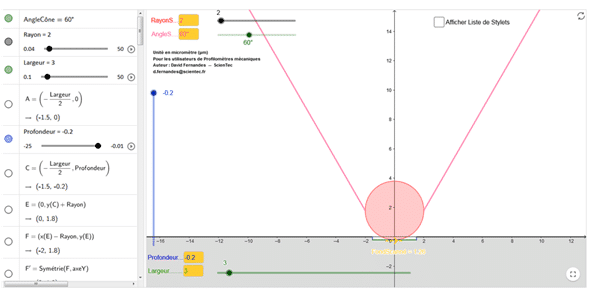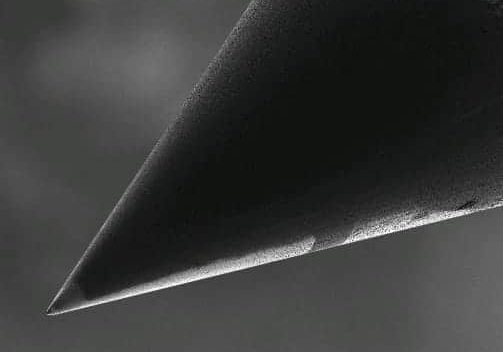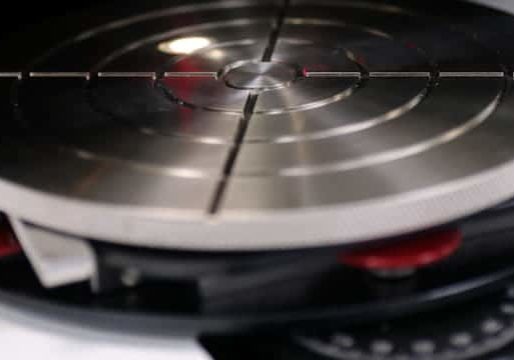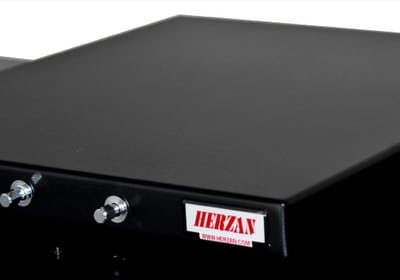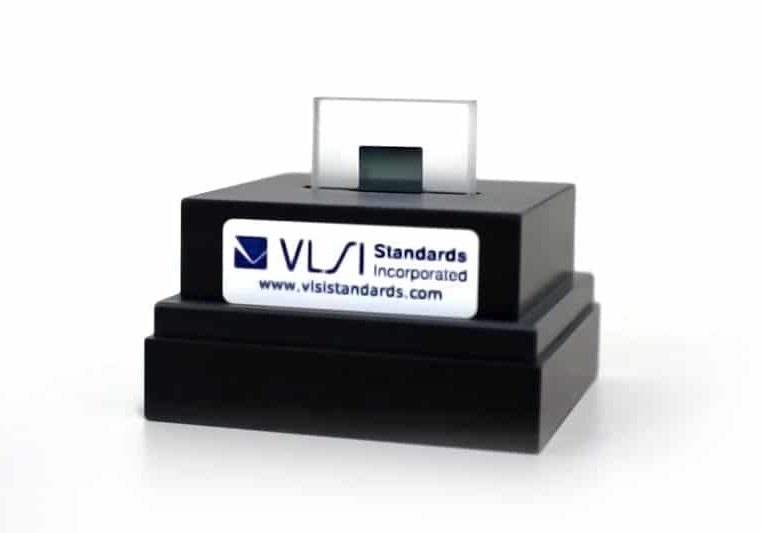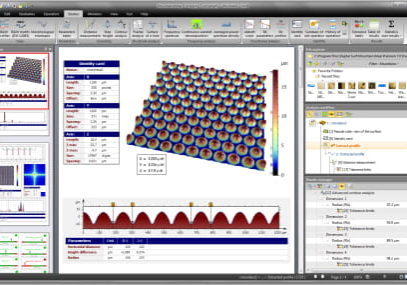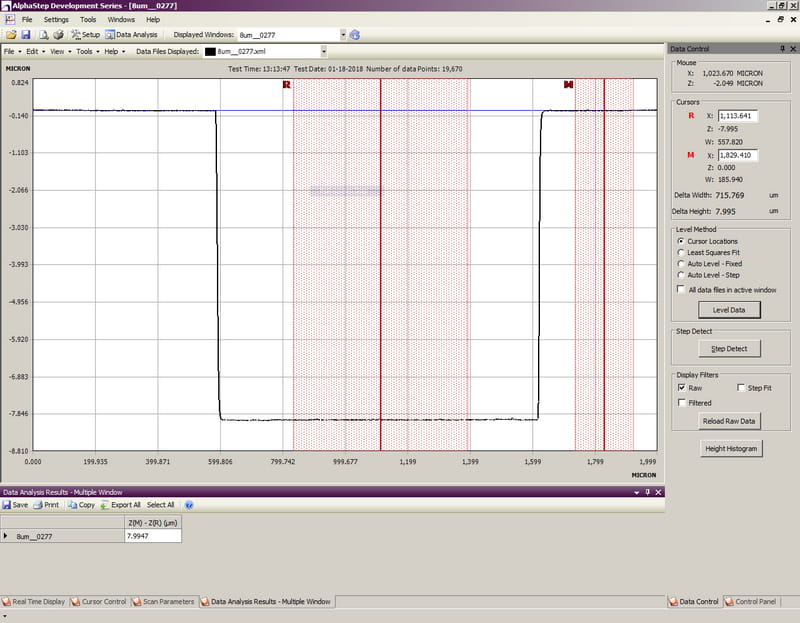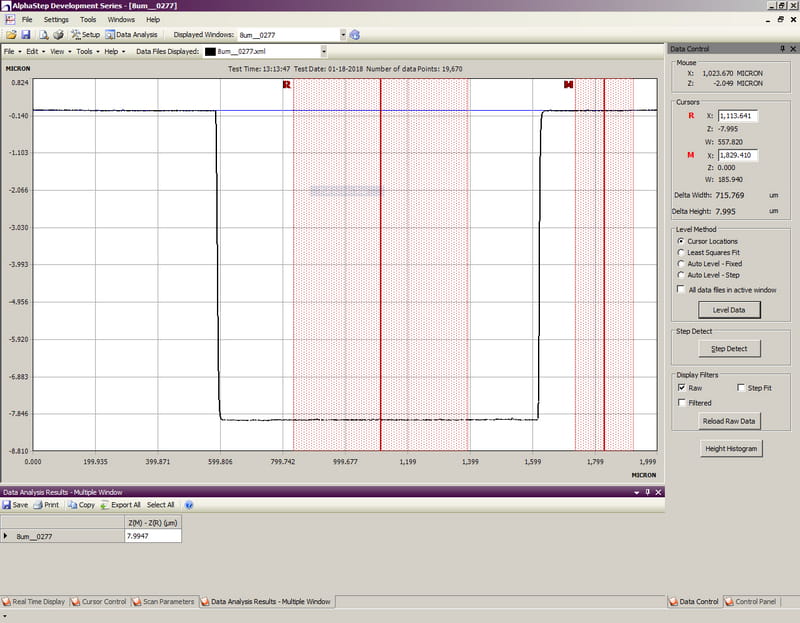 Stylus options
The Alpha-Step D-500 offers a variety of styli available to support the measurement of step height, steps with a high aspect ratio, roughness, sample bow and stress. The tip radius is between 100 nm and 50 µm and determines the lateral resolution of the measurement. The included angle, between 20 and 100 degrees, specifies the maximum aspect ratio of the feature being measured. All styli are made from diamond to reduce wear and increase the lifespan of the stylus.
Sample plate
The Alpha-Step D-500 has a range of chucks available to meet application needs. The standard mandrel is a nickel-plated aluminum mandrel for samples up to 140 mm. A matte black mandrel is available for transparent samples to minimize reflection from the surface of the mandrel. A universal vacuum mandrel is also available and includes precision locating pins for samples from 50mm to 125mm. Standard and universal chucks support strain measurements with 3-point locators to keep the sample in a neutral position for precise bow measurements.
Insulation tables
The Alpha-Step D-500 offers table isolation and stand-alone options. The Granite Isolator ™ series offers tabletop insulation systems combining granite with high quality silicone gel to provide passive insulation. The Onyz series table insulation systems use pneumatic isolators to provide passive insulation. The TMC 63-500 series isolation table is a stand-alone steel frame table that uses pneumatic isolators to provide passive isolation.
Step height
The Alpha-Step D-500 uses the NIST traceable height standards in thin and thick layers proposed by the VLSI standards. The standards include an oxide step on a silicon matrix mounted on a quartz block. A step height range of 8 nm to 250 µm is available.
Apex analysis software

Apex analysis software enhances the standard data analysis capability of the D-500 with an extensive suite of leveling, filtering, step height, roughness and surface topography analysis techniques. Apex supports ISO roughness calculation methods, as well as local standards such as ASME. Apex can also serve as a reporting platform with the ability to add text, annotations and pass / fail criteria. Apex is available in eight languages.
Offline analysis software
The Alpha-Step D-500 offline software has the same data analysis capacity as the tool. This allows the user to analyze data without using the precious time of the tool.

Contact us for more information on this product
Would you like an estimation ?
Additional information?
We will reply to you within 24 hours