DHM microscope – Life science
1.

Non-invasive
2.

Study unexplored biological processes
3.

Perform multimodal imaging
4.

Optical profilometer configured for transmission
5.

Study innovative materials and devices
Transmission DHM® measures the difference in optical path of a beam passing through samples.
For measurements of micro-optical components, microfluidic devices and defects or particles within transparent samples, Transmission DHM® systems are generally the optimal choice.
In biological imaging, the pioneering users of DHM® have demonstrated, through major publications, the interpretation of DHM® measurements in terms of underlying biological processes. DHM® transmission systems are the best choice for such cellular applications.
Two DHM® Transmission configurations are available, differentiated by the number of wavelengths.
The T1000 models are configured with a single wavelength and are the ideal tool for studying simple living cells.
as measurement of transparent material samples with smooth surfaces

T2100 models are configured to perform simultaneous measurements at two wavelengths, thereby increasing measurement capacity
Living cells
- Cell-based tests
- Ionic channels
- 4D cell imaging
- Red cells
- Electro-neutral ion transport
- Water channels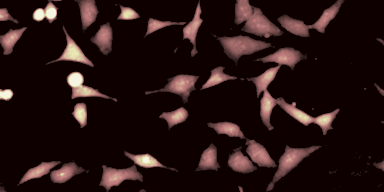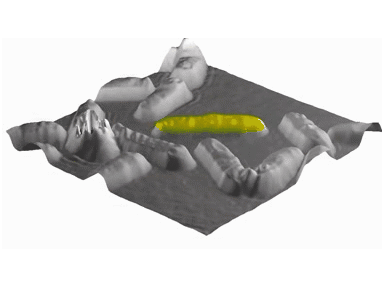 More info on applications
Surface topography




Surface finish




Fault inspection




Structured thin film




MEMS measurement
3D profilometry at unmatched speed
DHM® allows non-toxic quantitative measurements of individual living cells and cultures up to confluence:

Time lapse

Screening of multi-well plates


diagnostic
Study unexplored biological processes
The quantitative phase measurement of DHM® can be interpreted in terms of many underlying biological processes:
chain activity

Cell viability

intracellular concentration

morphological changes

Perform multimodal imaging
An optional module allows simultaneous DHM® and fluorescence measurements:
Correlate DHM® measurements
with well-known measurement protocols

Use DHM to decrease the number
fluorescence marking required


improve understanding of the cellular mechanism

Optical profilometer configured for transmission
The DHM® transmission makes it possible to measure several sample characteristics:
optical topography sample

Thickness variability

Size and location of internal structures and faults

Refractive index and concentration

birefringence

Study innovative materials and devices
The advantages of rapid dynamic measurement have been demonstrated in many applications:
Microoptical

Microfluidic

Stress and stress analysis

Liquid crystal displays (LCD)

biophysics

Wettability of coatings and structures

Fluid and gas dynamics

Dissolution and crystallization


Particle velocimetry

Time sequence of the 3D optical map of the quantitative phase measurement, limited by the camera rate: division of the HeLa cells
- Non invasive
- Study unexplored biological processes
- Perform multimodal imagery
- Optical profilometer configured for transmission
- Study innovative materials and devices

 T1000
T2100
Configuration
One laser source
Two laser sources
Measurement modes
Single wavelength
Single and dual wavelength
Accuracy (as demonstrated by taking the temporal standard deviation on 1 pixel over 30 measurements)
1.0 nm 1
1.0 / 5.0 nm 1 *
Vertical resolution (defined as twice the accuracy)
2.0 nm 1
2.0 / 10.0 nm 1 *
Repeatability (as demonstrated by taking the one sigma Rq value of 30 repeatability measurements on SiC reference mirror)
0.02 nm 1
0.02 / 0.05 nm 1 *
Vertical measuring range (without any scanning)

up to 500 μm for continuous structures

up to 500 μm for continuous structures

Max. height of steps with sharp edges (Depends on the laser source(s) and operating wavelength(s)

up to 1 μm 1
up to 3.5 μm 2

up to 7 μm 1
up to 22 μm 2
1) Converted value for measurements in air and with sample refractive index n=1.5  2) Converted value for measurements in water and with sample refractive index n=1.5 * With / Without single wavelength mapping
Contact us for more information on this product
Would you like an estimation ?
Additional information?
We will reply to you within 24 hours