Optical Photothermal Infrared spectroscopy
1. Submicron infrared spatial resolution
2. Non-contact measurement
3. Technique not requiring sample preparation
4. Convenience of a contactless reflection technique
5. Quality of the FTIR transmission spectra.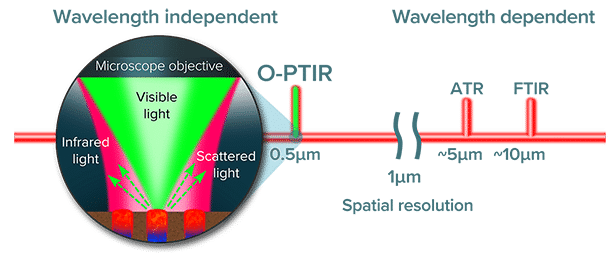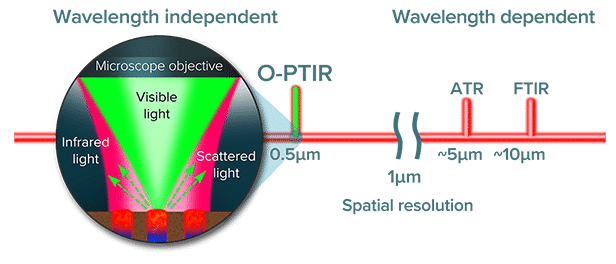 O-PTIR uses a collinear visible light source to detect IR absorption, which results in non-contact measurement, thus requiring little or no sample preparation before analysis.
Since the light "probe" is used to detect the thermal expansion of the sample, the spatial resolution is independent of infrared light and the submicron infrared spatial resolution is reached.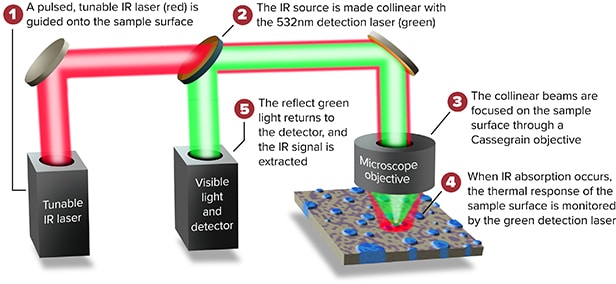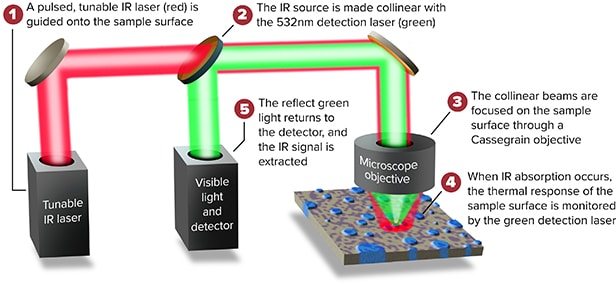 Spectra on thick samples correlated to FTIR transmission
O-PTIR offers the best of both worlds, combining the convenience of a contactless reflection mode technique with the quality of FTIR transmission spectra.
Below: Three different O-PTIR spectra collected on 20 µm thick samples (below) were searched in the KnowItAll® database with high matches for polystyrene (PS) (left), polyethylene terephthalate (PET) (medium) and polymethyl methacrylate (PMMA) (right).


Submicron infrared spectroscopy in seconds
The new innovative mirage infrared microscope system provides infrared spectroscopy and submicron infrared imaging in a wide range of applications. Using an exclusive technique based on O-PTIR spectroscopy, candling exceeds the diffraction limit of traditional infrared spectroscopy and bridges the gap between conventional infrared microspectroscopy and infrared spectroscopy at the nanometric scale.

Fast, easy-to-use contactless optical technology

mIRage overcomes the limit of IR diffraction with an innovative technique, photothermal infrared optical spectroscopy (O-PTIR).
A tunable pulsed medium infrared laser induces photothermal effects on the surface of a sample, measured using a visible probe laser focused on the sample. Measurements are collected quickly and easily, without the need for contact-based techniques such as ATR spectroscopy.
Eliminates the need for thin layers
FTIR transmission quality spectrum in reflection mode
mIRage provides infrared spectroscopy and chemical imaging, regardless of the infrared wavelength. Using O-PTIR, highly sensitive IR measurements are enabled, allowing absorption of transmission quality without contact with the surface. This eliminates the need for thin samples and improves turnaround times.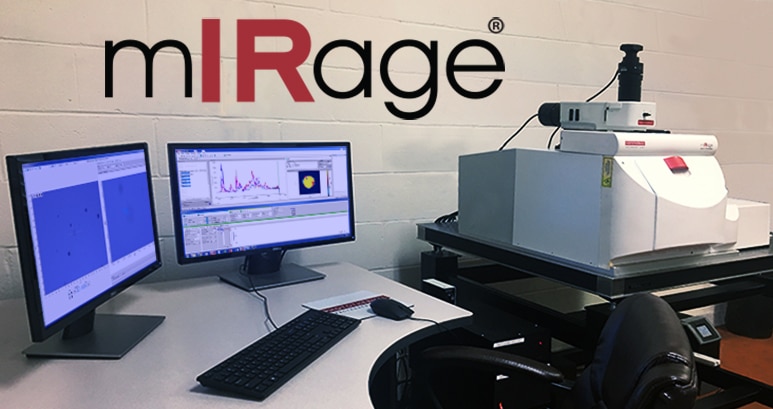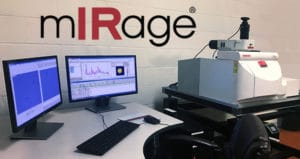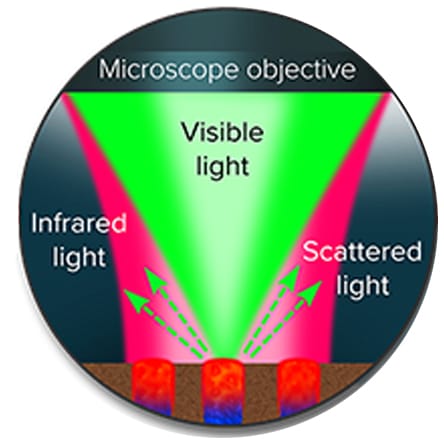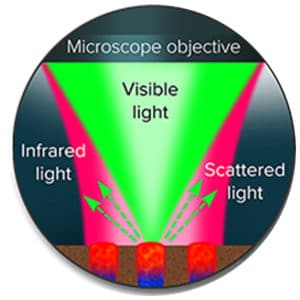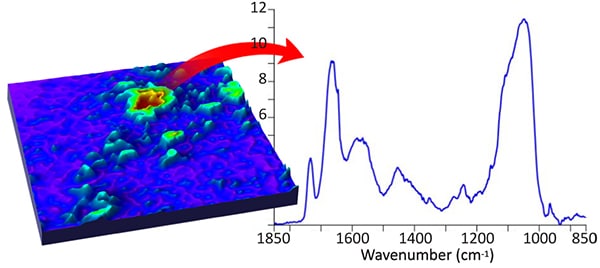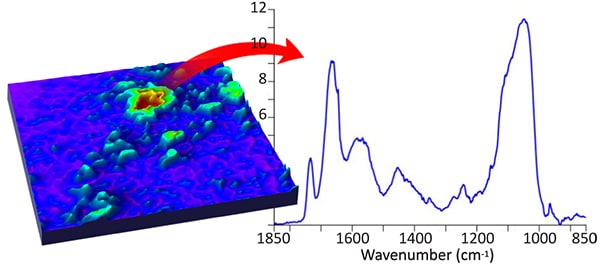 Bone sample: Reflection mode IR Spectra and hyperspectral imaging 25 x 25 µm array, 500-nm spacing. Left: Single wavelength image (1058 cm-1) from Hyperspectral data set. Right: Single-pixel spectrum – 1s collection time
- Sub-µm spatial resolution whatever the wavelength
- Simultaneous IR and RAMAN spectroscopies
- Quick and easy to use non-contact optical technique
- Eliminates the need for thin layers
| IR Spectral range | |
| --- | --- |
| Raman Spectral range | 900-200 cm-1 (c) |
| IR mode | ReflectionTransmission (d) |
| RAMAN mode | Reflection |
| Probe laser(mIRage/Raman) | 532 nm (e) |
| Stage minimum step size | 100 nm |
| Stage x-y travel range | 110x75 mm |
Contact us for more information on this technique
Would you like an estimatation ?
Additional information?
We will reply to you within 24 hours