Table Top scanning electron microscopes
1.

Intuitive user interface
2.

Automatic functions
- Motorized sample support along 3 axes (X, Y, T)
- Auto focus, contrast, brightness, alignment of the electron gun
3.

Maximum sample size up to 70mm in diameter and 45mm in height
4.

Magnification from x20 to x150,000 (Resolution from 20nm to 30kV)
5.

Quick replacement of a sample in less than two minutes
Table Top SEM microscopes, Low cost imaging solutions
The EM-30 SEM microscope would be the best low cost solution for analyzing your samples. The EM-30 table SEM makes it very easy to acquire sharp images with a high depth of field. (BSE and EDS optional)

The EM-30 Plus scanning electron microscope offers the best spatial resolution and ease of use on the market. The EM-30 Plus desktop SEM offers the most suitable solution for acquiring high-resolution images. (BSE as standard)

The EM-30AX table microscope can implement scanning electron microscopy and elemental analysis functions at the same time. (EDS as standard)
The EDS basic analyzer offers practical functionality and high reliability. In addition, as an integrated device, it allows cost reduction.

The EM-30AX Plus table-top scanning electron microscope offers the highest spatial resolution and ease of use on the market. In addition, its special sample holder allows users to observe up to 7 samples at the same time. All of these parameters make this table SEM a complete solution adapted to your needs. (BSE and EDS as standard)
Scanning electron microscopy
Applications of Scanning Electron Microscopy
The applications include both the fault process, dimensional analysis, the characterization process, reverse engineering and particle identification ... this is why the fields of application are multiple and very broad:
Life sciences

Microbiology




Food / Environmental Sciences




Plants and animals




Medicine / Pharmaceutical




Human body



Materials science

Chemistry




Automobile




Construction




Smartphones




Energy




Semiconductors and electronics




Metals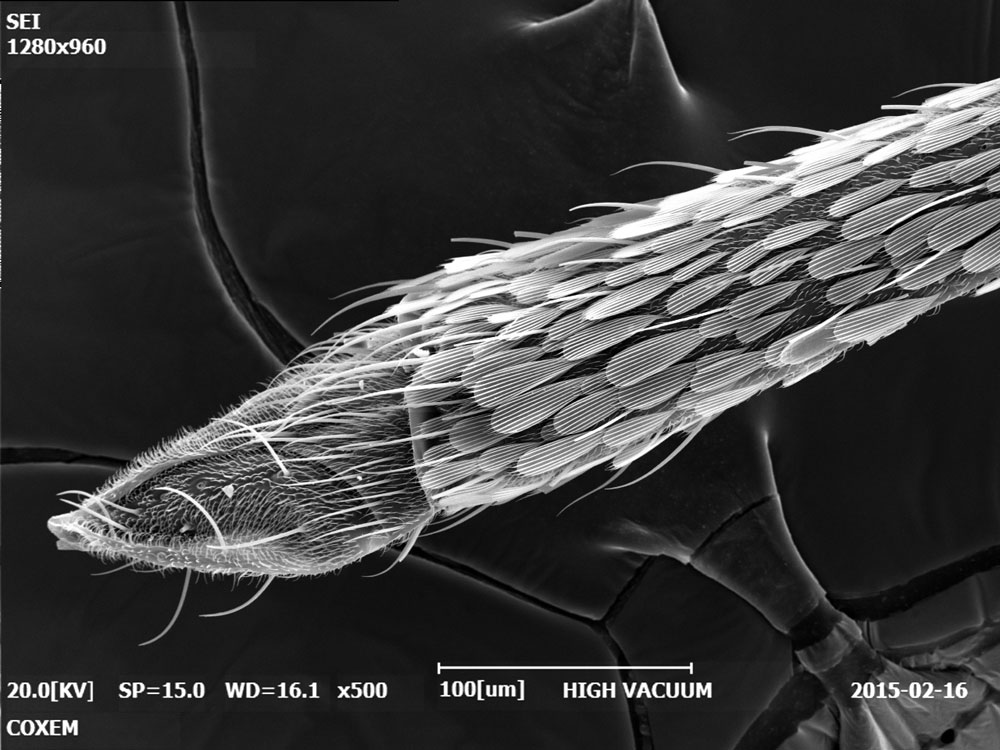 Mosquito stinger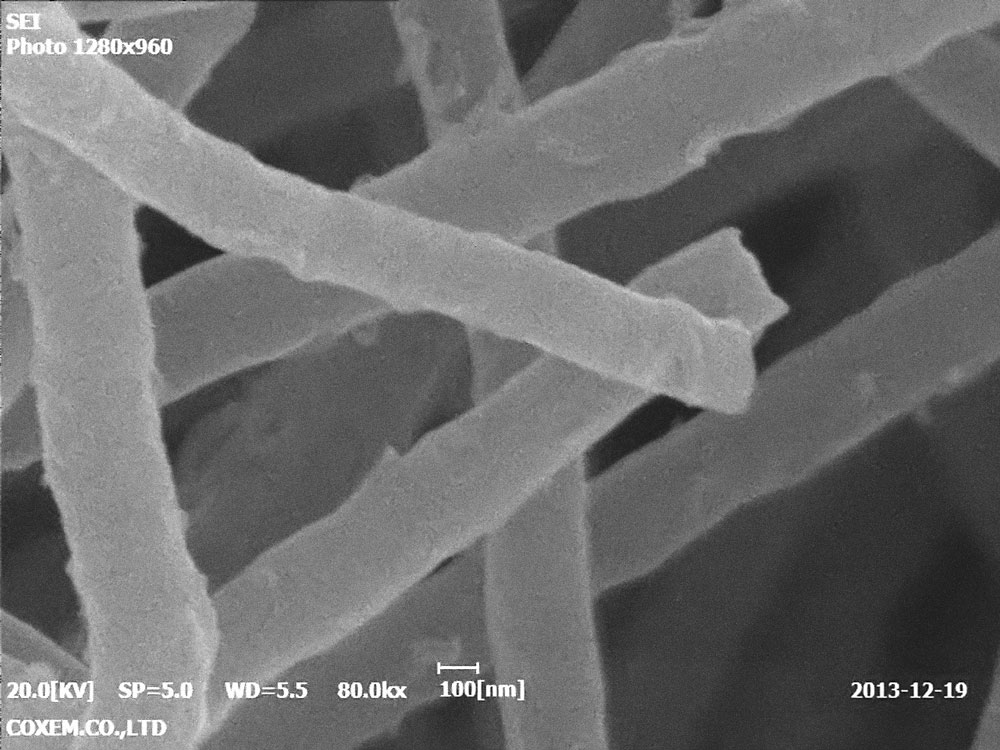 Nanotubes 80000x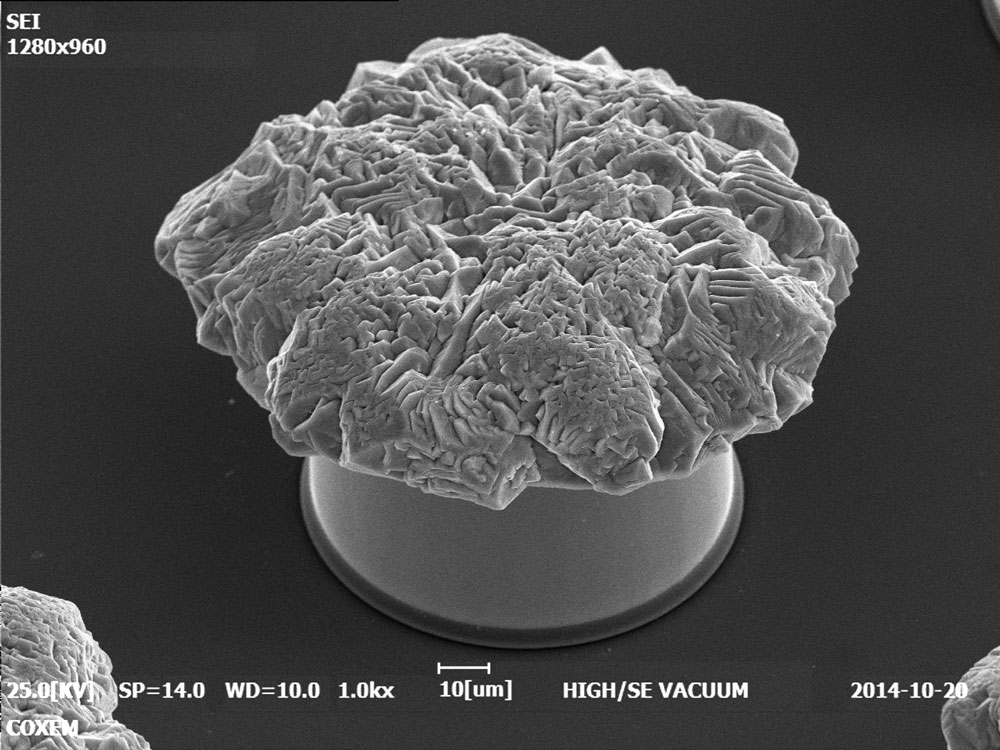 Silicon wafer 2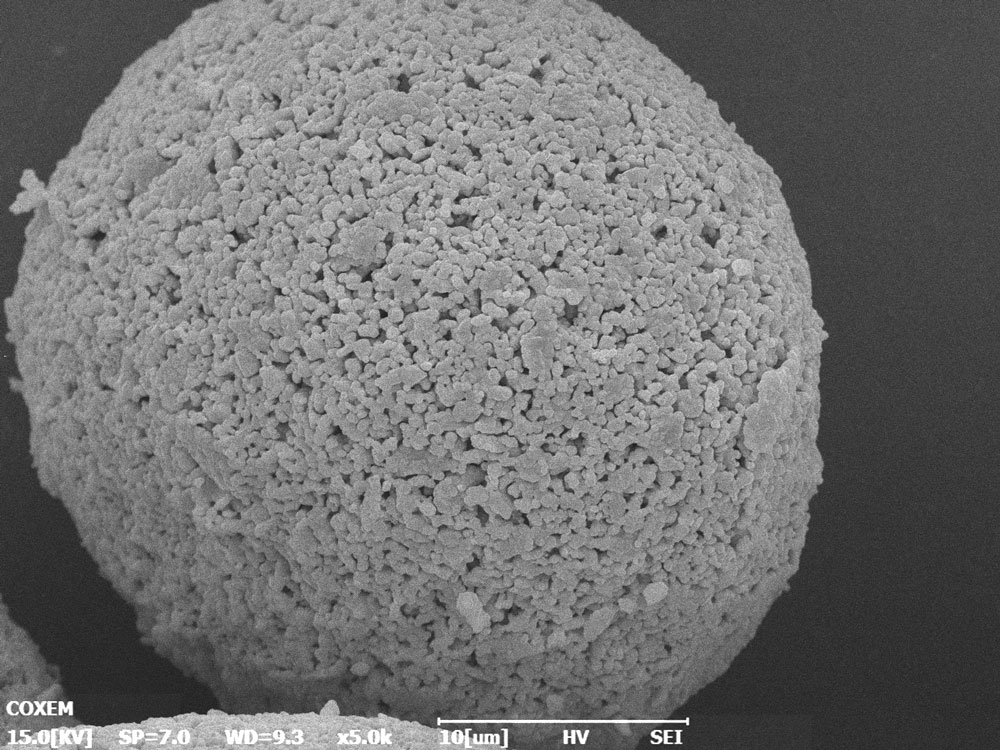 X2-5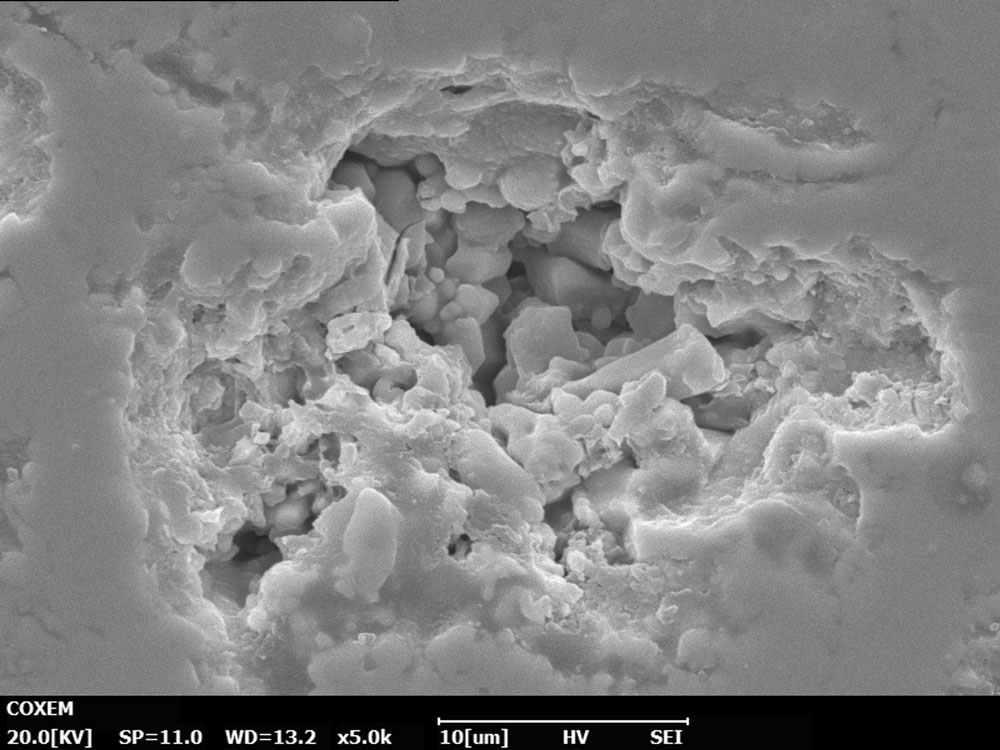 3-4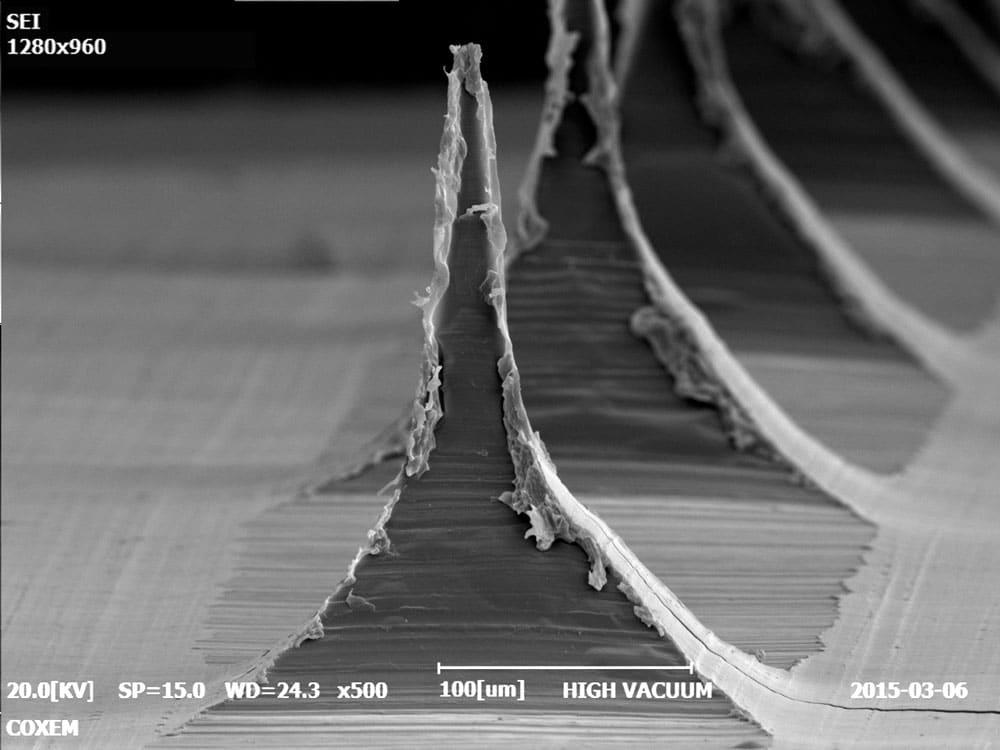 Cosmetic patch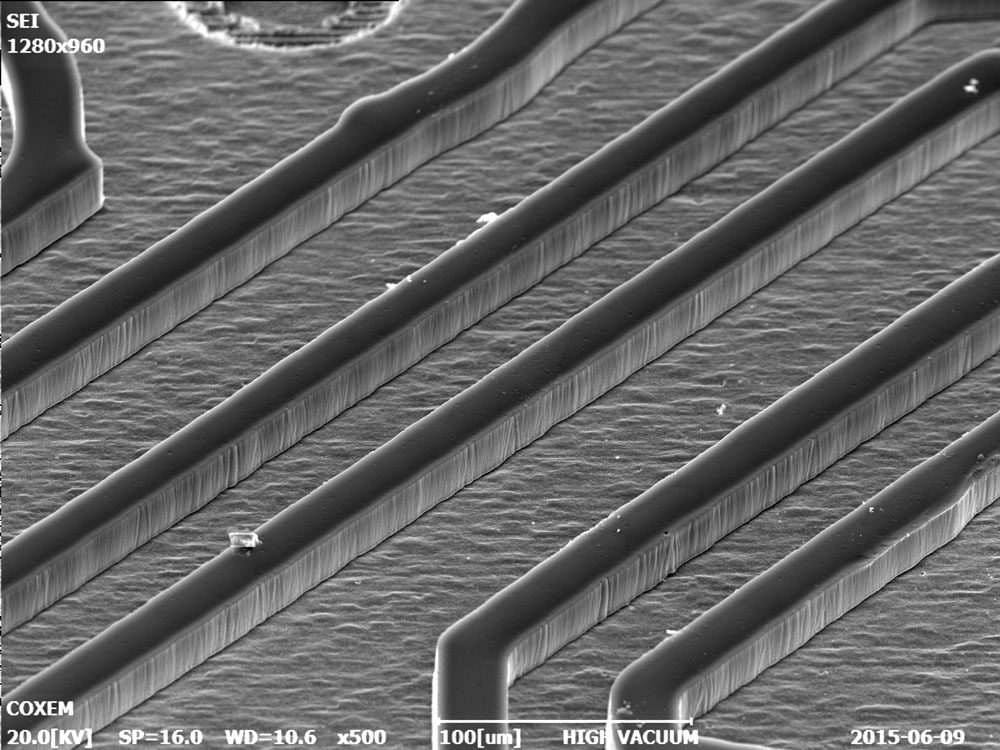 Etch-500x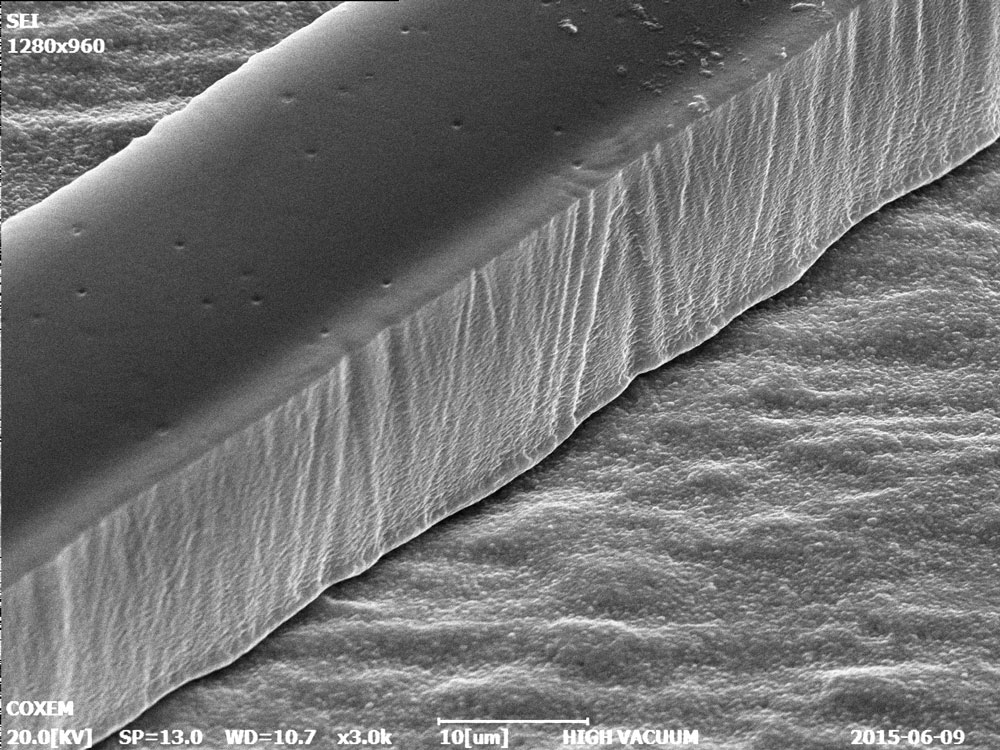 Etch-3000x
More info on applications
- Working distance
- High resolution
- SE + ESB mode
- Vacuum mode
- Acceleration voltage
- Angle of inclination
- Coolstage application
- Panorama Shot application
- Application of 3D topography software
- Application of transmission scanning electron microscopy (STEM)
- Application of EDS
- Cartographic analysis
- Large-scale mapping
- Analysis of gunshot residues (GSR)
- Multilayer analysis
- Mineral cartographic analysis
Scanning Electron Microscopy




high resolution at low cost
The EM-30 series is a high-end table top scanning electron microscope (SEM), with specifications and capabilities that go beyond any other SEM in its price range. After evaluating the EM-30 Plus (tungsten) or the new EM-30 LE (CeB6), your search will be over to find the best compact SEM. Each MEB model is also available in a companion EM-30AX model which integrates an integrated EDS micro-analysis.
The EM-30 series desktop scanning electron microscope is the only desktop SEM available with tungsten or CeB6 electronic sources. No other supplier can help you choose the solution that best suits your applications and your laboratory situation. Tungsten filament sources have lower operating costs and are easy to exchange by the user in less than 10 minutes. The tungsten filaments last about 100 hours, while the sources of CeB6 or cerium hexaboride last about 1500 hours, depending on their use. CeB6 sources are generally replaced by a factory-trained maintenance technician due to the higher vacuum requirements which impose a more rigorous approach to the cleanliness of sealing surfaces. Our technicians can train operators wishing to exchange their own CeB6 electron sources, if they wish. The hourly operating cost of CeB6 systems is higher than that of tungsten-based systems, mainly due to more expensive filaments (900 USD or more versus 50 USD for tungsten), but other factors affect the operating cost total of a SEM based on CeB6. With ScienTec, you can count on truthful advice and information to help you choose the type system best suited to your application, so you don't fall victim to the hype.
Advanced options available:
Basic EDS analysis - STEM detector - Cooling phase - Anti-vibration table
Imaging capabilities

Resolution: 5 nm to 20nm

Magnification: 100,000 to 150,000x




Energy beam: 1 - 30 kV




Sample positioning: Auto XYT




Imaging sensors: Duo SE / BSE (optional)
- Motorized sample support along 3 axes (X, Y, T)
- Auto focus, contrast, brightness, alignment of the electron gun
- Maximum sample size up to 70mm in diameter and 45mm in height
- Magnification from x20 to x100,000 (Resolution from 20nm to 30kV)
- Quick replacement of a sample in less than two minutes
- Working distance
- High resolution
- SE + ESB mode
- Vacuum mode
- Acceleration voltage
- Angle of inclination
- Coolstage application
- Panorama Shot application
- Application of 3D topography software
- Application of transmission scanning electron microscopy (STEM)
- Application of EDS
- Cartographic analysis
- Large-scale mapping
- Analysis of gunshot residues (GSR)
- Multilayer analysis
- Mineral cartographic analysis
SE (electronic secondary) and BSE (electronic backscatter) imagery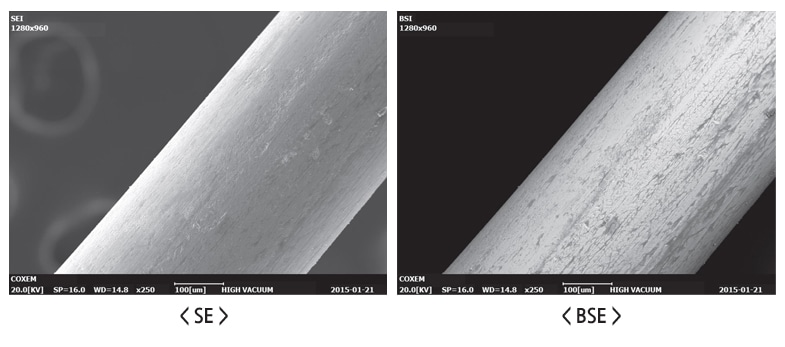 Screenshot with surface and topographic details (SE) or atomic weight contrast (BSE)

Combine the two imaging detector signals to obtain a composite image representing both the change in topographic and atomic weight
Functional and user-friendly functions
NANOSTATION SOFTWARE
NanoStation software provides the novice user with a simple, clean, clutter-free interface, while the more advanced user can easily access features that allow more control over microscope functions. With the intuitive software, users can view and save images quickly and easily with great detail.
The user can select a standard sample holder layout at the bottom left or use the digital "NavCam" to capture an image of the sample or media to be used for macro navigation. In the upper left corner of the interface, the mini-map is an image collected at the lowest magnification desired for the field of vision or the area of ​​interest. When the user navigates to another location on the sample and at higher magnifications, the location of the current view is indicated on the mini map (yellow rectangle).
All "slide" controls can be easily adjusted using a variety of techniques: dragging the indicator, using the mouse wheel, a +/- button, the keyboard, and some "auto" adjustment functions.
In addition to the keyboard shortcuts preferred by advanced users for certain functions such as focusing, the software provides easy access to all microscope and imaging settings by mouse click or mouse wheel. All the function control groups are intelligently organized on the software interface. The less common parameters, generally defined according to user preferences, are invisible in the secondary windows.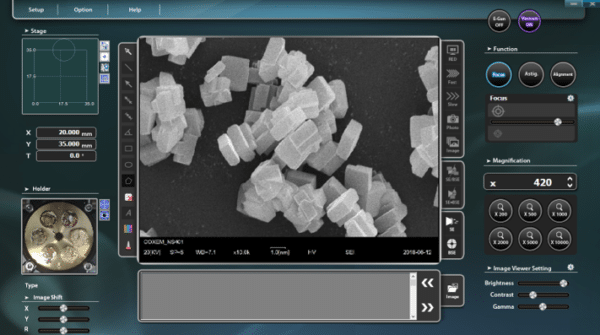 NAVIGATION
The EM-30 table-top SEMs include a variety of sample navigation tools to assist new and experienced users alike. A digital "NavCam" can be used to capture an image and / or a sample holder, which is then placed in the sample card area of ​​the software GUI. NavCam is standard on the EM-30 LE and optional on the EM-30 Plus. Alternatively, a variety of multi-sample presentations can be selected from a drop-down menu which is conveniently used to move from one sample to another.
It is very easy to navigate through different samples or different areas of a sample using a variety of commands to suit the preferences of each user.
Click with the mouse on any sample of the NavCam image or on the card of the sample holder to access this sample.


Click with the mouse on an entity observed in the mini-map to center the radius on this entity.

Click anywhere in the largest scanned image to move this point to the center of the beam

Use the supplied joystick (shown on the right) to "drive" the scene in any direction, zoom in / out or adjust the focus.

The arrow keys on the keyboard are used to control the scene or the image to the left / right and up / down.

The X-Y coordinates of known entities can also be entered to direct the beam to these coordinates


At very high magnification, the software's Beam Shift sliders are used to make micro and nano movements
SAMPLE POSITIONING
The EM-30 series desktop scanning electron microscopes come with a standard 3-axis motorized stage for X / Y and Tilt. The working distance or "Z" is very easy to define before closing the chamber and avoids accidental collisions in the absence of an external Z axis.
The Tilt function is extremely useful for examining the topography of flat samples. The tilt function is complex, so the X axis is adjusted during tilt to keep the region of interest of the sample in the field of view. The compucentric tilt function offers more versatility and time savings thanks to its easier use, especially for inexperienced users.
PRESENTATION EXAMPLE
Sample mounting is easily accomplished using various sample holders provided, which allow the use of standard pins of various sizes. The standard multi-pin holder (shown on the right) allows easy mounting of up to 7 bits of 6 mm in diameter, 3 bits of 12.7 mm or 1 bit of 25 to 32 mm in diameter. The multi-support can be easily adjusted to the height in Z using the side knurled screw in order to receive large samples or other supports such as small vice clamps or pre- tilt of various suppliers - LINK.
The type of sample holder is selected in the software which presents a sample card in the lower left corner of the interface, which allows to easily switch to different samples without losing track of the sample being created. 'picture. Alternatively, the digital "NavCam" can be used to capture an image of the sample and / or the medium to be inserted there.
Adapters are also provided to allow the attachment of one of your existing supports with an M4 thread. If you prefer brackets other than pins such as Hitachi M4 style fasteners or Jeol style cylinder fasteners, our staff have extensive experience in adapting many types of mounting systems for SEM systems. So please call on us.
PANORAMA MODE - Large format image capture
NanoStation 4.0 software provides the ability to capture high resolution images of a larger area by automatically moving the scene to capture a few individual images in a checkerboard pattern, which are then automatically assembled to form a large image the size of a giga-pixel. . You can also save individual images for batch download in image processing software such as MIPAR or ImageJ to quantify particle size, cells, fibers, body shape and more.
The process of capturing large images is quite simple and requires only one menu for configuration. The progress of the image captures is displayed in the mini-map area at the top left.
This larger giga-pixel image can be used for a variety of purposes, such as printing a high-resolution wall-size image, for example. For semiconductor circuits, a single image allows the analyst to pan and zoom in on a single image for an inspection role such as fault analysis.
BACKSCATTER ELECTRON DETECTOR (BSED)
The EM-30 Plus series scanning electron microscopes (SEM) are delivered with a 4-quadrant backscatter electron detector that can be used in COMPOSITION or TOPO mode. Composition mode is standard for atomic contrast images, useful for both metrology measurements and EDS. Topo mode is a synthetic image created by alternating the quadrants of the detector. This can be useful for topographic-looking images on flat samples with sample tilt.
The BSE detector is also retractable without disconnection - a unique feature not found in other table or office SEMs. The BSE sensor can be swiveled from the SEM pole piece to a parking position. This allows unobstructed access to shorter working distances using the SE sensor and for other purposes.
IMAGE METROLOGY TOOLS

Metrology or image measurements are extremely flexible and precise with the EM-30 series from SEM. Extended calibration is performed at the factory at multiple magnifications, working distances, beam energies and more, resulting in measurement errors of less than 1%. Detailed calibration reports accompany the documentation for each system, making the EM-30 Plus a valuable tool that can be easily certified and accepted in your workflow.
The software provides quick access to all common measurement tools such as:
Length

Diameter

Area (rectangle, circle, polygon)

Angles


Annotation
In addition, a line scan function (shown at right) can be used for very detailed and precise measurements using the variation in brightness of each pixel to accurately determine the true location of edges and features.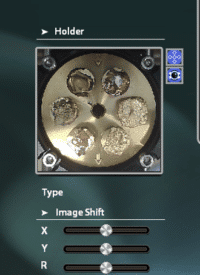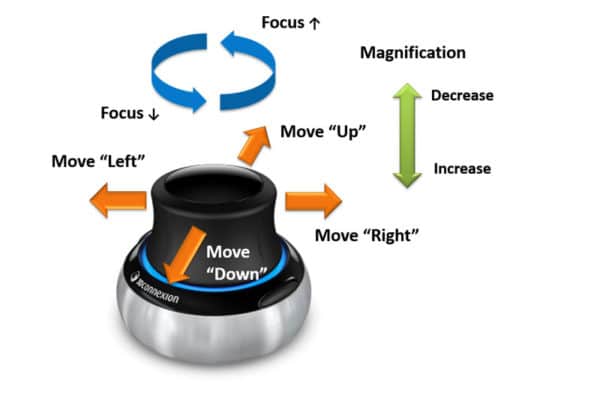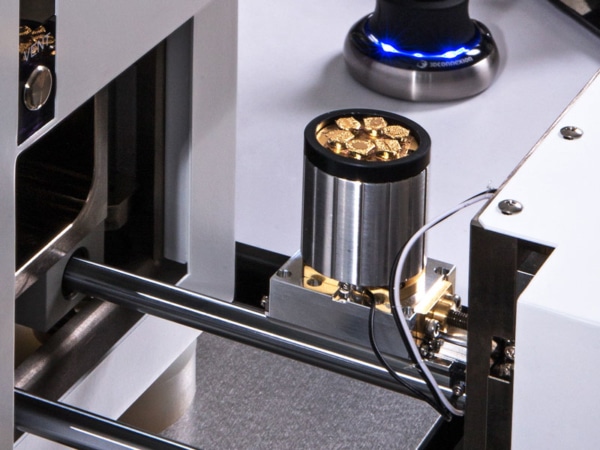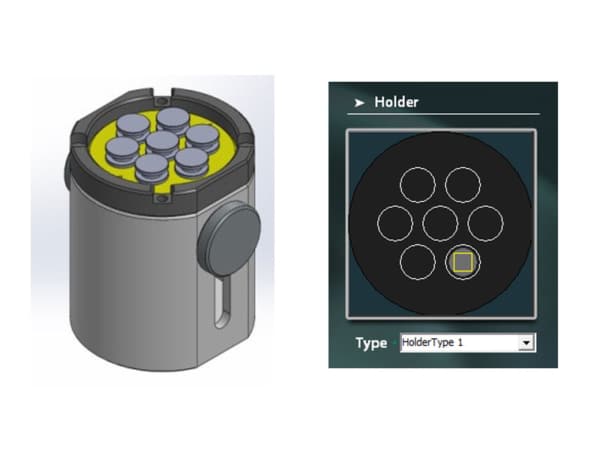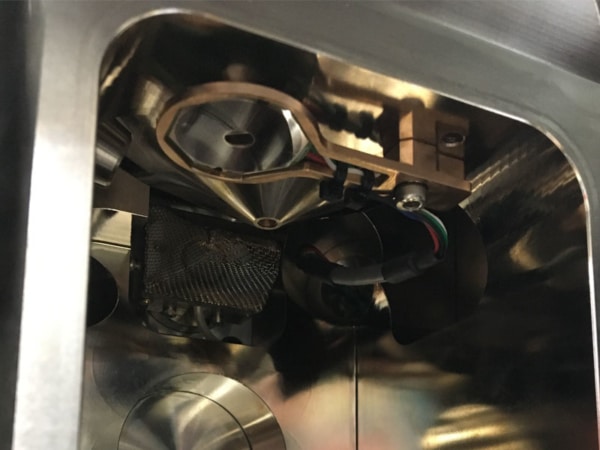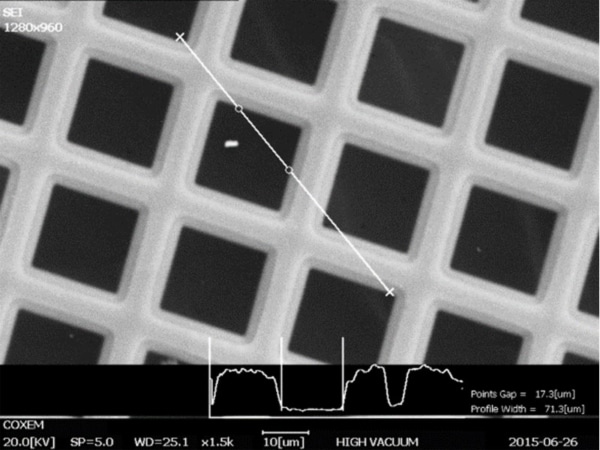 Table Top SEM Specifications

Many models of table scanning electron microscopes are available: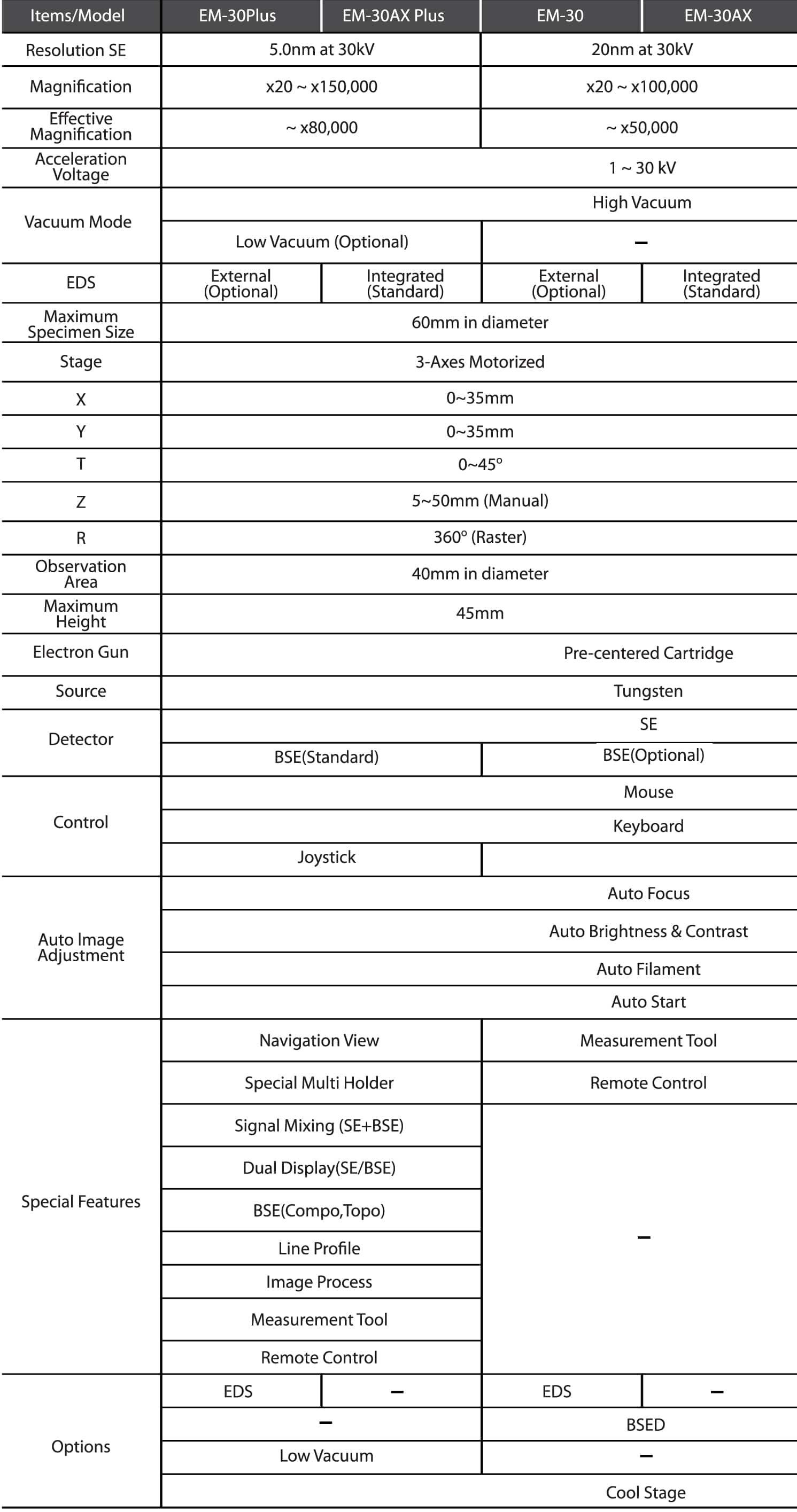 Contact us for more information on this product
Would you like an estimatation ?
Additional information?
We will reply to you within 24 hours